project news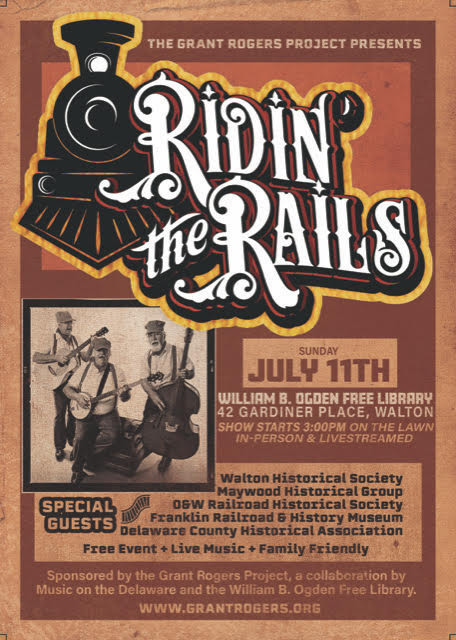 "Ridin' the Rails" Concert at Walton Theatre, July 11, 2021
The Grant Rogers Project presented a Sunday afternoon free family concert on July 11 at 3:00 p.m. The theme of the concert was "Celebrating the railroad in song and story," and featured a Tennessee music trio called "Ridin' the Rails."
The program was a fun, nostalgic, musical look at the American Railroad through song and story. Trio members included former Waltonian Darrell Varley (vocals, banjo, guitar, mandolin, fiddle), Doug Roberts (vocals, guitar, ukulele), and Jim Hardaway (vocals, bass, guitar). An additional attraction for local folks was a group of exhibits of railroad memorabilia available for browsing contributed by the Walton Historical Society, Maywood Historical Group, O&W Railroad Historical Society, Franklin Railroad and History Museum, and the Delaware County Historical Association. View a short video of part of the performance here.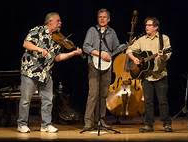 Canal Street String Band Concert: "Grant Rogers and Delaware County's Homespun Music"
Canal Street String Band members Phil Banaszak, Dave Ruch and Jim Whitford presented a special virtual concert on June 5, 2021, emphasizing the music of Grant Rogers, a mid-1900s popular Delaware County fiddler, guitarist and singer, plus other music from the area. Included in the program were two recently discovered tunes recorded by Ethel Rogers, Grant's mother, plus other pieces from the broader American folk tradition.
It was appropriate for the Canal Street String Band to return to the Grant Rogers Project stage (even if the stage was virtual), as it was a Music on the Delaware concert in 2014 with the same band in which a couple of Grant Rogers' songs were featured. This served as a reminder to local folks of the legacy of Grant Rogers and his contemporaries, and prompted members of Music on the Delaware and the William B. Ogden Library to create a project that would try to preserve the music, dancing, and storytelling of this area. This website is one result. View the concert in 4 parts here.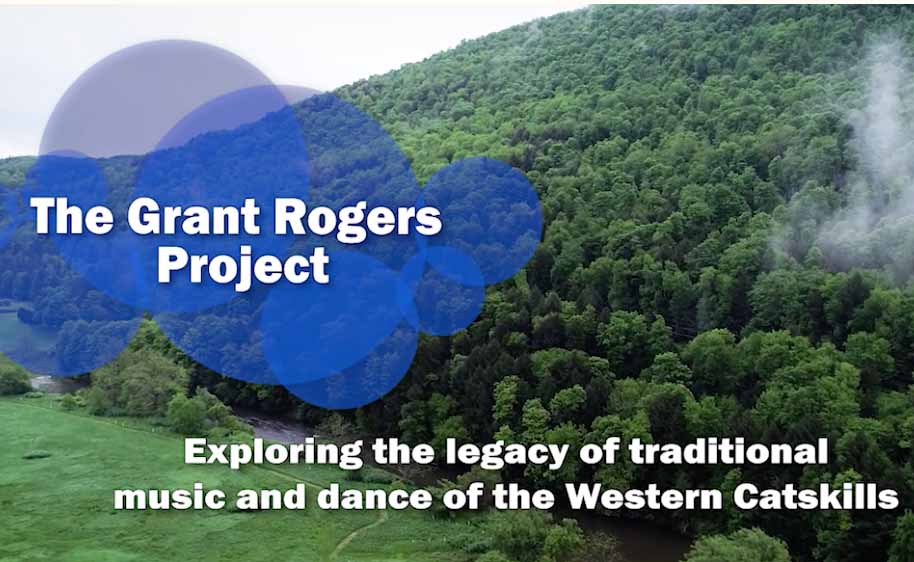 Presentation of the Grant Rogers Project at Delaware County Historic Association Museum, October 27, 2019
Grant Rogers Project Committee members gave a one-hour talk called "Exploring the Legacy of Traditional Music in the Western Catskills." Four members of the committee outlined the history and goals of the project, collaboratively developed and sponsored by Music on the Delaware and the William B. Ogden Library, and explained why Grant Rogers was chosen to represent this history. Sections of the Grant Rogers website (www.grantrogers.org) were also briefly shown and explained.
Traditional musicians Kathy Shimberg, Dane Scudder and Ira McIntosh provided music for the event. The presentation closed with a short jam session and a square dance, in which many audience members enthusiastically participated. A short video recap was developed in February 2020 and can be viewed here.